Online Winter Graduate and Undergraduate Exhibition
December 13-21, 2021
This year's Winter exhibition will focus on how making can lead to a better world. As part of this exhibition we will be showing works that challenge the online medium as a format for presentation and encourage alternative ways of viewing, including AR, VR, interactive, or unconventional presentations of work. How do you imagine our world in a near or distant future? How could we make that world real? Topics explored by works could include: Critical A.I. and Computational Creativity, Climate Futures, Virtual Communities, Speculative Futures, and Algorithms of Hope.
Performances and Presentations
As part of this online exhibition there will be a live performance and presentation event on Thursday, December 16th from 4-6pm. This will be live streamed on the Digital Media YouTube channel.
Solo Works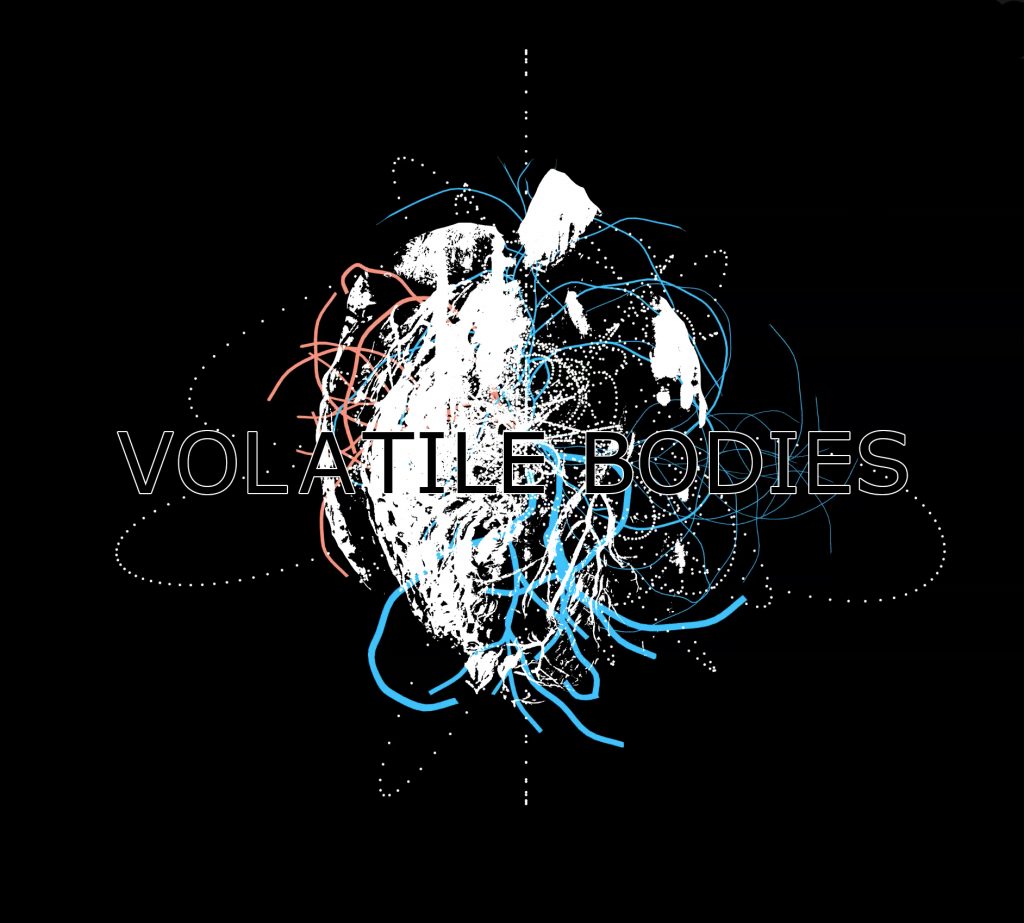 Volatile Bodies
Ilze Briede [Kavi]
https://youtu.be/pk5I1cB8CXQ
In 'Volatile Bodies', two biologically active forms (a tree and a human body) are translated through signals into digital expressions while sharing the same space of temporary presence. Together, they entangle and weave a new form of hybridity, a language, a remote embodied connection, pulsing and driven by living data streams. The artwork explores more profound and volatile chemistries of different lifeforms entering the alternative space of encounter while exchanging signals unaware of each other. It is a conversation that is not spoken but lived and manifested from the core of the bodies and their living environments.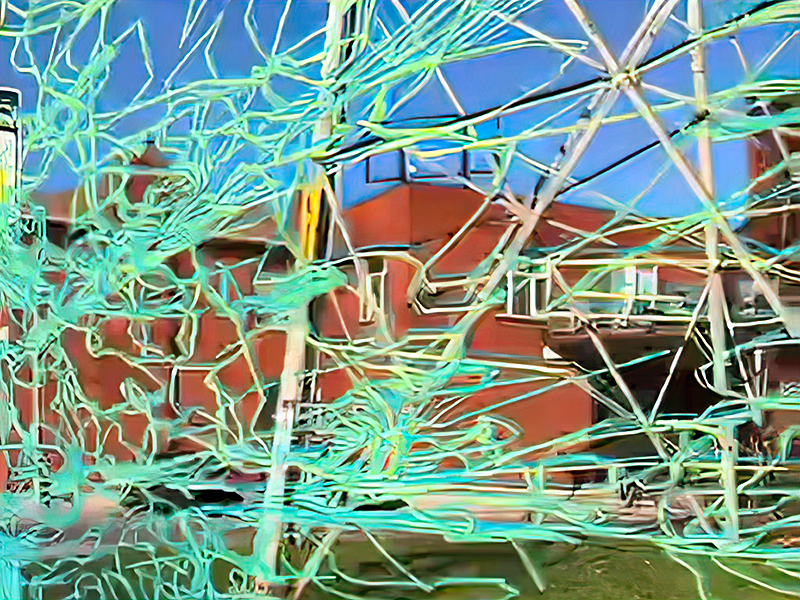 Orbital Line 1
Nick Fox-Gieg
https://orbital-line-1.glitch.me
A bike ride through Toronto's waterfront was filmed with a 360 camera, then depth maps were extracted from the footage and transformed into a sequence of brushstrokes in 3D space by a machine learning system.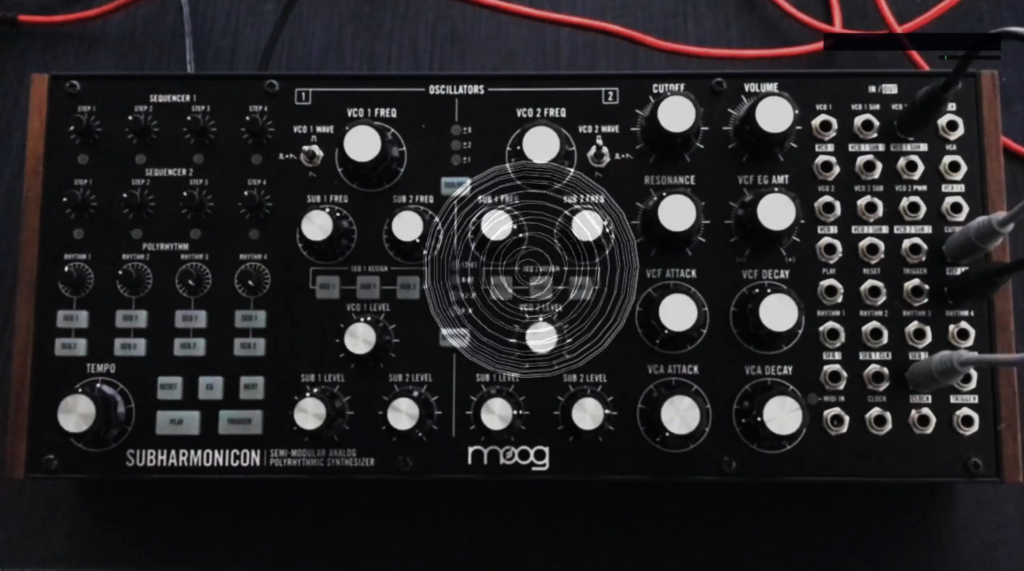 Southern Sub
Marcus Gordon
https://youtu.be/fcPcmRqLaGU
Electroacoustic improvisation with the Moog Subharmonicon analog synth. sigv.js, a system developed by Gordon for live performance with code and electronics, is used for the sound visualizer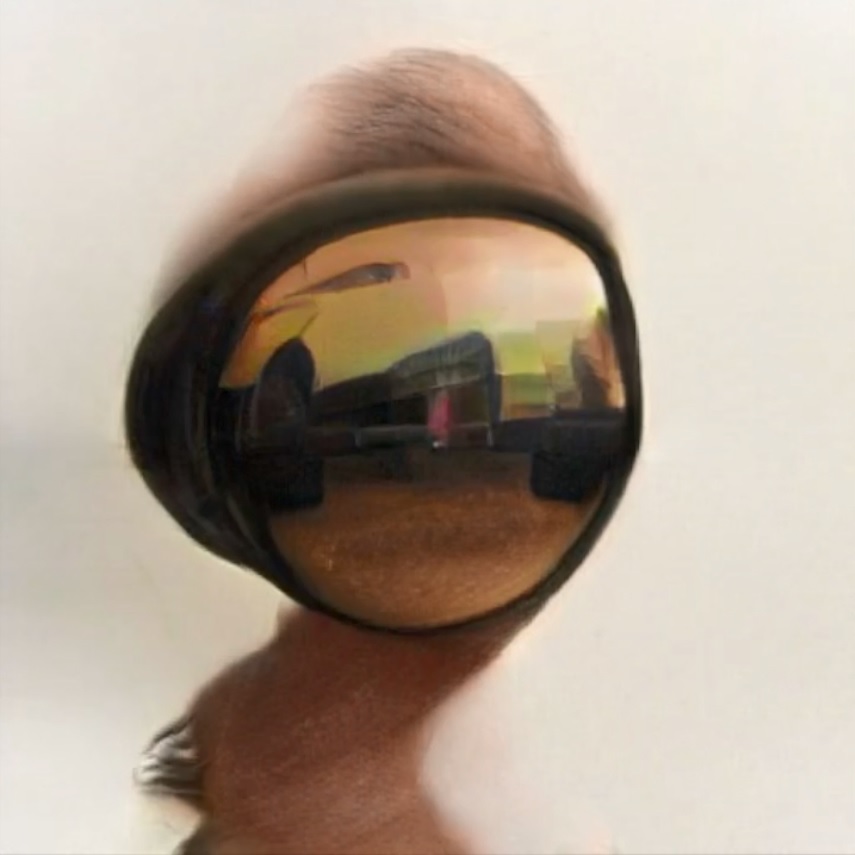 INTRA
Grace Grothaus
https://youtu.be/b99Yw10ON8U
Earth's biosphere is an endless cross-species collaboration: fluid, multiple, and ever-shifting. It seems that a new picture of embodiment is emerging, percolating into contemporary conceptions of our bodies and their boundaries. It is difficult to continue to conceive of ourselves as discrete organisms knowing that most of the cells that comprise our body are not human but belong to other species, and that these internal ecologies are constantly evolving through environmental influence. It seems we need to look no farther than ourselves to find interspecies collaboration. As these microbiomes are no longer invisible to us, we are realizing just how permeable the boundaries are and shifting our understanding to the realization that there is no 'away' and no 'other'; every being is interconnected. From the micro to the macro, we contain and are part of worlds within worlds. This project challenges our perception of the exterior and interior, self and other, and encourages new conceptions of vibrantly alive and endlessly permuting ecologies to permeate our imaginations.
Group Works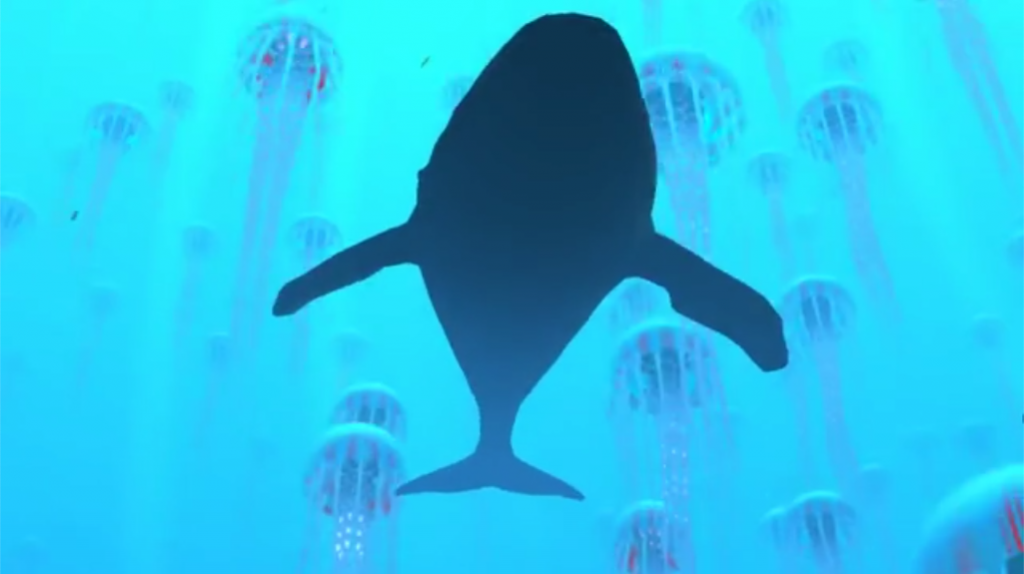 Life and the Ocean
Xuan Han, Jiahui Wang, Jingwen Deng
https://youtu.be/AEjQtVR7sC4
We made a video with the Max8 on the theme of life and the ocean. We simulated the deep sea in real life to show the audience what the world is like in the deep sea. In the music, the sea creatures dance. In this, we use floating light, a song from the East, to reflect the soft beauty. Let the audience can feel the value of life, and reflect that every life has its own value.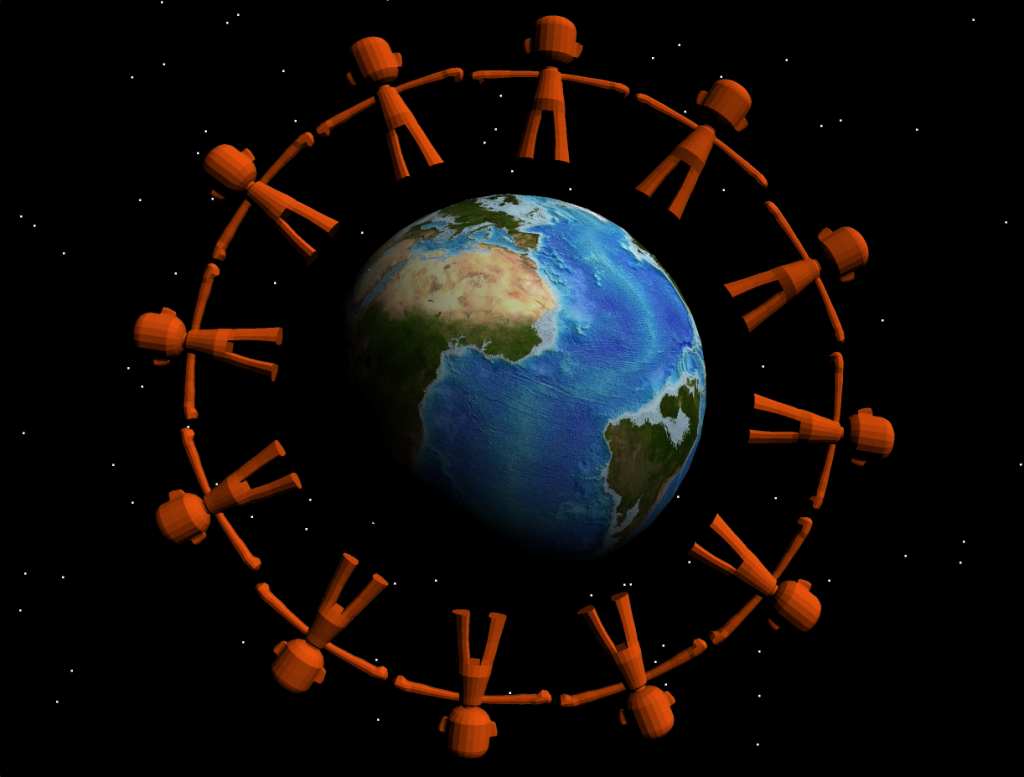 We are making a better world
Chibuzor Igwilo, Julia Le, Maximus Lam
https://youtu.be/UDK0MYB_zww
Our project will be a music video for a song called "We are making a better world", the song is an original piece composed by Chibuzor Igwilo and it briefly discusses how although as a race we are often torn between one another and often hurt one another, we are striving to stop history from repeating itself and we as a civilization are aiming for a better world. The accompanying video will represent these ideas through visual representations created and orchestrated by the group. 3D models from other artist were sourced from online and include: "Heart" by Phenopeia and "Hand(low poly)" by scribbletoad.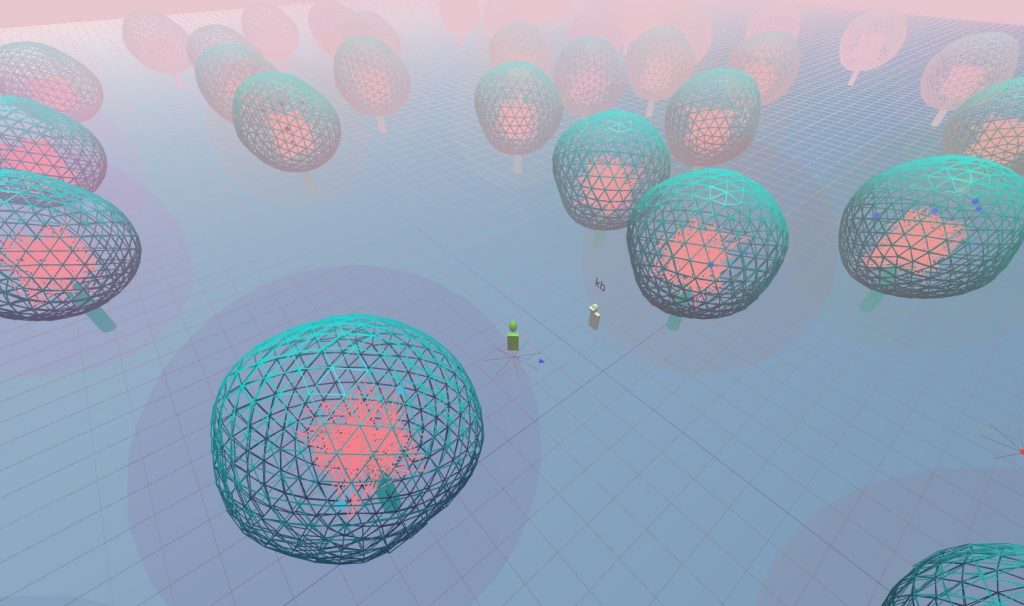 Holonic Chorus
Kwame Kyei-Boateng, Eyal Assaf, Ilze Briede aka Kavi, & Grace Grothaus
http://environmentalsensing.space/holonicchorus/
We invite viewers into a shared WebXR world: a fluctuating forest generated from real biometeorological data. Interactions with the trees in this playful world will generate different musical tones, holding space for the possibility of making extemporaneous distributed choral work which is unique to the collective decisions of all participants. A holon, from the Greek holos 'whole' and -on 'part', is defined as being simultaneously both a whole in and of itself, as well as part of a larger whole. In our real worlds, socially distanced due to the pandemic, we hope to provide a sense of collectivity and shared space in the virtual environment. Please note: Holonic Chorus is available for viewing through WebXR enabled browsers such as Microsoft Edge and through other browsers with WebXR extension installed. Special thanks: Biometeorological data shared generously through project Foresta-Inclusive by Jane Tingley. Foresta-Inclusive is funded by the Social Sciences and Humanities Research Council of Canada as well as the "Environments of Change" Partnership Grant. Thanks also to the School of Art, Media, Performance and Design at York University, Toronto, ON. CA.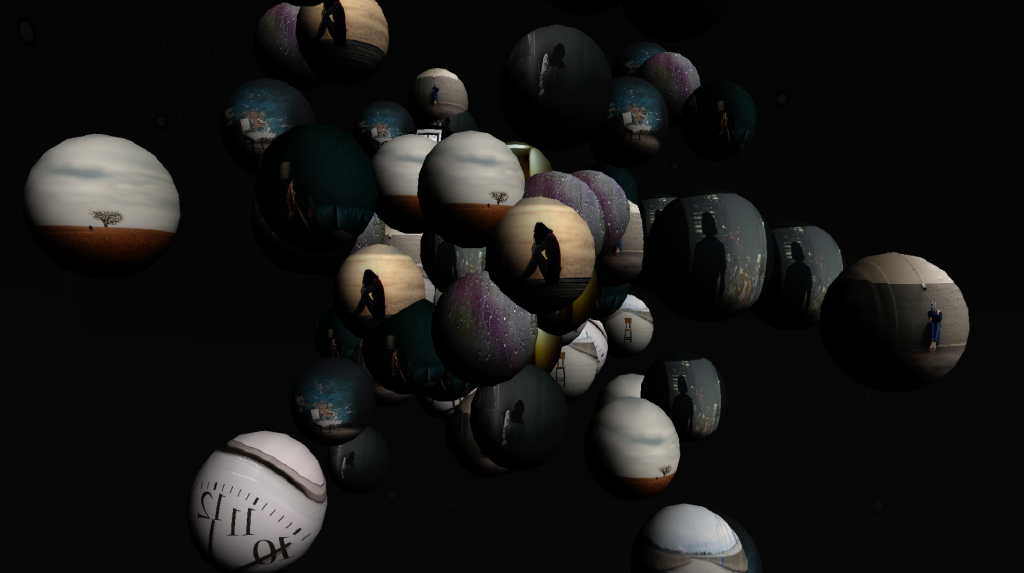 metaAccess
Erica Wellman, Kaitlin Urlando, Ashley Thong, Hyun Ju (Joo) Park
https://youtu.be/vopdcG0-Bos
metaAccess, is an audio-visual composition representing a speculative future centered around a digitally inclusive and accessible metaverse. Isolation is a ubiquitous issue in today's society, heightened in recent years due to COVID-19. Since the metaverse is an increasingly popularized notion already implemented in the entertainment industry, our project aims to artistically imagine a digital world that highlights the topic of isolation and digital accessibility. This is because in a modern world that values rapid technological innovation, it is more often the case that those in control are designing these systems to best serve the typical, able-bodied user. As a result, many communities with diverse needs are left feeling isolated and disconnected from new digital platforms. It is only by creating a 'multimodal metaverse' designed for a range of different users that we can truly form an inclusive digital community
Performance Works
Performance works that will be presented as part of the live performance and presentation event on Thursday, December 16th from 4-6pm. This will be live streamed on the Digital Media YouTube channel.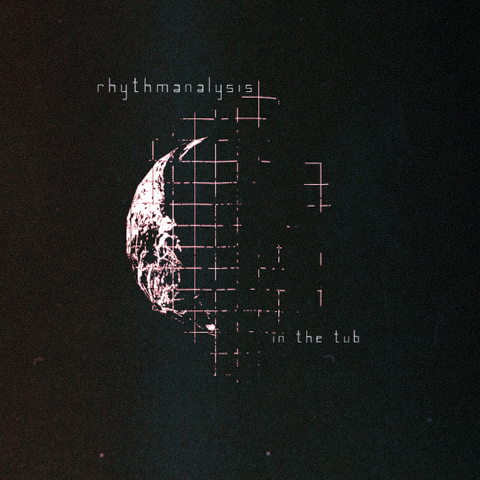 Rhythmanalysis in the Tub
Ilze Briede [Kavi], Marcus Gordon
Marcus Gordon and Ilze Briede[Kavi] will improvise with real-time data to create visuals and sounds in this telematic performance. They will tap into bio-physiological data streams to publish Kavi's heart activity in real-time. This data will manipulate digitally created visuals and analogue sounds. First, the body data is collected and analysed by PACIS2, a software developed by Mark-David Hosale and Alan Macy. Then, it is sent to the online hosting server shiftr.io that will allow remote access to the live data stream. Kavi will use TouchDesigner software to create digitally responsive visuals.
Atmospheric sounds will be incorporated into the stream and visualized. Using the biosignals of the heart as an amplification device, the atmospheric sounds are gradually transformed through a rhythmanalysis process where the two sonic sources interweave into a composition of synergy, cross-pollination and a reflection of organic and inorganic presence. sigv.js, a Max/Javascript live coding tool, is used to visualize the sonic transformations. The atmospheric sounds themselves consist of a hybrid of both analog and digital sound.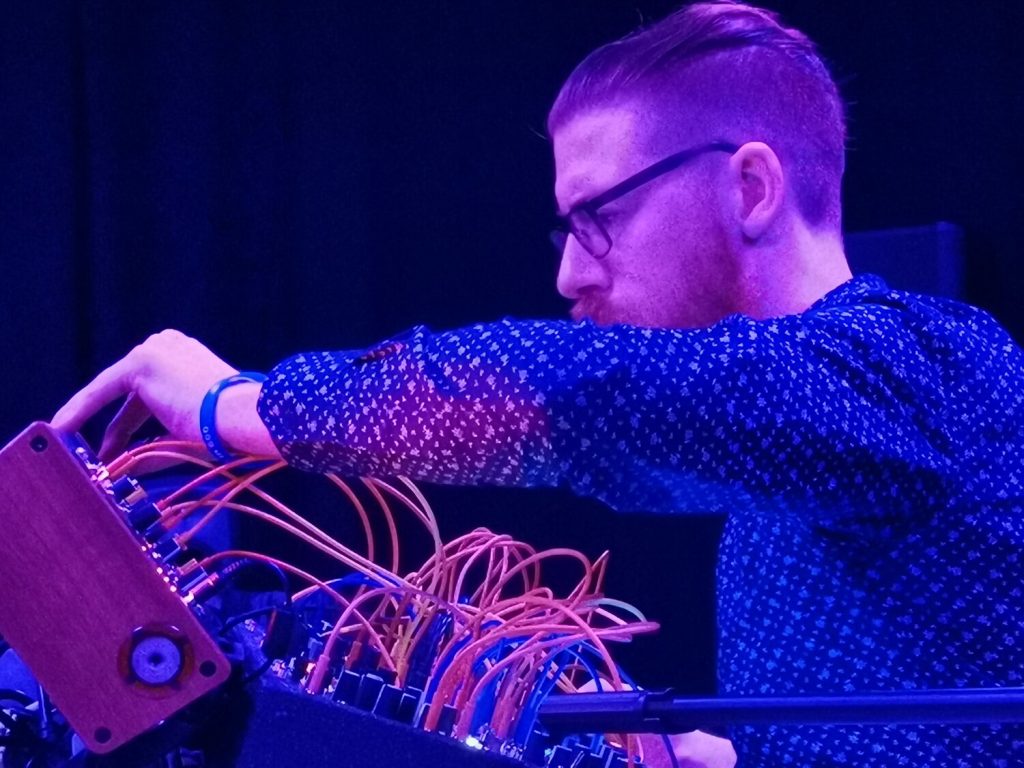 Thispatcher
Michael Palumbo
My performance will involve live-patching of a modular synthesizer, and might include live-processing of my voice. I often play with microsound, and an example for achieving this is to create a short pulse wave with a very fast rising edge and slightly slower falling edge, and use it to ping a filter (feed a short function into a hi-pass filter with a high-resonance) and send the filter output into a delay effect with a high amount of feedback. I then use a lot of modulation on: the pulse wave to vary the tempo, density, and shape of the grains; the filter to vary the frequency, amplitude, and length of the grains; and the delay, to vary the grain cloud density, damping, and stereo field. The modules I typically use for this technique are a Falistri (pulse wave function generator), QPAS (filter), Mimeophon (delay), and Tempi and Batumi (modulation).
Artist Bios
note: not all artists provided bios.
Ilze Briede [Kavi]
Ilze Briede [artist name Kavi] is an artist nomad traversing across various art disciplines and foraging multiple media into mutual conversations. Kavi's current research explores the intersection between human and non-human, biological, digital and artificial processes and systems, and potential cross-collaborations. She aspires to develop more informed human-computer-human interaction models to bring technology and humans closer together. Her research-creation methodology is rooted in exploring aspects of materiality, performance, live coding, and experimentation. Kavi is a second-year PhD student in Digital Media at York University
Nick Fox-Gieg
Nick Fox-Gieg (https://fox-gieg.com/) is a researcher, animator, and developer in Toronto. Most recently, he's been working on XR projects for the Verizon 5G EdTech Challenge, NYT T Brand Studio, the University of Waterloo, Google Creative Lab, and Framestore. His awards include a 2017 Engadget Alternate Realities grant, Eyebeam and Fulbright Fellowships, and the jury prize for Best Animated Short at SXSW 2010; his work has also been shown at the Ottawa, Rotterdam, and TIFF film festivals, at the Centre Pompidou, and on CBC TV. Fox-Gieg holds an MFA from the California Institute of the Arts and a BFA from Carnegie Mellon University.
Marcus Gordon
Marcus A. Gordon is a PhD candidate in the Digital Media program at York University with a research focus on live coding performance and archimusic. His research seeks to explore the dynamic relationship between architecture and the ecology of an eversive virtuality, where virtual and physical forms co-exist from an interplay of energies. Marcus currently explores these hybrid spaces through live coding and improvisation with modular synthesis
Grace Grothaus
Grace Grothaus (www.gracegrothaus.com) is an interdisciplinary computational media artist. Her practice-based artistic research encompasses physical computing, environmental sensing, algorithmically generated imagery, and speculative futurity. Completed installations, performances, and public or gallery artworks are produced at a range of scales: from city-scale interactive public works to intimate, wearable computational speculative design devices.
Michael Palumbo
Thispatcher, aka Michael Palumbo, is an electroacoustic music improviser. This year he released two albums: 'Guitar Smattering', featuring solo performances for electric guitar and modular synthesizer, and 'Early Electroacoustic Works Vol. 1 & 2', a collection of compositions from 2005-2014. He is the producer and host of the online electroacoustic improvisation concert series Exit Points, and regularly performs as a soloist and member of ensembles both online and in the Toronto free-improvisation scene. https://thispatcher.bandcamp.com

Hyun Ju (Joo) Park
Joo Park (she/her) is a Korean-Canadian digital media arts student with an interest in interaction design, media art, and mixed reality. She also enjoys exploring the intersections between art and traditional sciences (e.g., neuroscience) and continues an on-going pursuit to visualize and manipulate these themes into her creative projects. Like many of her peers in digital media, creative expression has always played an intrinsic role in her life and personal development. She hopes to grow with the digital media program and create future projects that address her own present thoughts and questions on meaning, identity, flow, and change
Ashley Thong
Ashley Thong is a second year digital media student studying game art. Her goal is to one day make art for an official published video game. Games have always been a huge part in her life and she continues to learn more about them everyday. Art comes naturally to her, anything art related she will show nothing disappointing. Creativity is a strong suit of hers, creative ideas always flow through her mind and strives to express them in unique ways. With her love for games, artistic skills and creative mind, she hopes she can show what she can do in the coming years.
Kaitlin Urlando
Kaitlin Urlando is a second year student going into the Digital Media Arts stream. She has always had a passion for drawing and painting ever since her childhood, so much so that she gained the reputation from her peers as "the go-to art kid for school projects". Growing up, she learned how to adapt her traditional skills to more contemporary media, as she has worked with animation, web design, and digital art and continues to do so in her university years. She plans to become a graphic designer in the future and, with a few years of work experience, she hopes to one day become an art director.
Erica Wellman
Erica Wellman (Art IG @eriwell) is a Japanese Canadian 2nd-year student, majoring in Digital Media Arts. She is interested in almost anything that involves creating and has many hobbies, such as DIY, flower pressing, Illustration, music videos, web design, animations, and much more. Erica also loves to add new ideas and details to her course projects even after the deadline has passed, to gain new skills and knowledge for making a more interesting and stronger project in the future. Right now, she is working on character designs and illustrations for a game made by her friends and is also making her own projects to find her strengths and weaknesses as a step in finding her goals for the future.
---
For inquiries regarding this initiative, please contact:

Mark-David Hosale, Ph.D. – mdhosale@yorku.ca
Associate Professor and Chair, Computational Arts
Digital Media Program
School of Art, Media, Performance and Design
York University, Toronto

4700 Keele Street .:. 228 Goldfarb Centre for Fine Arts .:. Toronto ON, M3J 1P3 Canada
http://computationalarts.ampd.yorku.ca/